West Virginia Traffic Accidents and the Move Over Law
Charges are pending against a 26-year-old driver who is blamed for a mid-September accident on I-64, where his SUV reportedly struck several police cruisers, according to WOWK TV.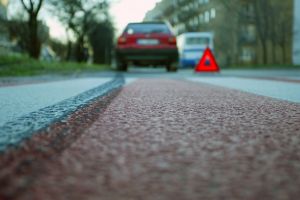 Our car accident lawyers in West Virginia note the situation could have been much worse. The two police cruisers belonging to Charleston, WV police officers, were stopped at the side of the road responding to another accident. The police were fortunately not in the vehicles at the time, or they might have been injured.
Move Over Laws Aim to Protect First-Responders
The driver of the SUV who hit the police cars was reportedly intoxicated at the time of the accident. The toxicology reports have not yet revealed the motorist's BAC, but it is expected that he will be charged with drunk driving.
The police vehicles were both pulled off to the side of the road and had their lights flashing when the SUV hit the vehicles. The flashing lights should have been an indicator to the SUV's driver that there were first responders on the scene and that he thus had an obligation to pass in a safe manner.
Part of driving in a safe way when there are police cars on the road is moving over into a different lane under West Virginia's "Move Over" law. The Move Over law was originally implemented in 2003 and is codified in section 17c-14-9a. According to this law: "the driver of any vehicle approaching a stationary authorized emergency vehicle, when the authorized emergency vehicle is giving a signal by displaying alternately flashing red, red and white, blue, or red and blue lights or amber or yellow warning light" has the obligation to proceed with due caution.
Proceed with due caution is defined as making a lane change whenever possible under current traffic conditions, yielding the right of way and moving to a lane that is not adjacent to the emergency vehicle. When it is not possible to make a lane change and move over, then proceeding with due caution is defined as reducing the speed of the car to 15-miles-hour or below on non-divided highways/streets and to 25-miles per hour or below on divided highways.
A violation of the move-over law in West Virginia is a misdemeanor that carries with it a fine of up to $500 as well as the potential for as long as sixty days of jail time. If a violation of the move-over laws results in property damage, the driver can have his license suspended for as long as 90 days. If the violation results in injury, penalties can include a one-year license suspension and there is a two-year license suspension if the failure to move over results in death.
The driver in this accident was drunk and thus likely not thinking clearly about his legal obligation to move over. This is yet another reason why drunk driving is dangerous and should be avoided at all costs.
Car accident lawyers in West Virginia can help if you were hurt in a crash. Call Recht Law Office today at 1-800-HURTLINE for a  free case consultation.