Motorcycle collisions began to spike towards the end of April, as several deaths occurred during one of the first warm weekends. WOWK-TV reports the fatalities prompted safety experts to issue a warning to both drivers and bikers to be careful on the roads. Motorcycle riders taking their bikes out for the first time this season are also advised to check the bike carefully, looking at brakes and tires and run the engine.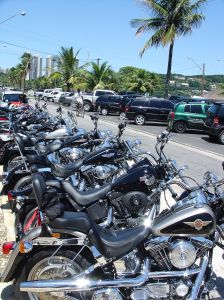 Because motorcycle accidents start to increase as the weather gets warmer, May is National Motorcycle Safety Awareness Month. The National Highway Traffic Safety Administration has provided some tips for both motorcyclists and drivers to kick off this month-long focus on reducing motorcycle collisions.  Following safety tips can save lives and reduce driver liability for collisions. If a driver is responsible for causing an accident, an auto accident lawyer in West Virginia can help the victim or surviving family members to make a damage claim.
Keeping West Virginia Motorcycle Riders Safer
The number of motorcycle accident fatalities has increased dramatically in recent years, but 2013 finally saw some good news. According to preliminary reports from the Governors Highway Safety Association (GHSA), there was a seven percent decrease in the number of motorcycle deaths in the early part of 2013. This reduction in the death rate is just the second drop in deaths to occur since 1997.
In West Virginia, there was a very large drop in motorcycle accident deaths from 2012 to 2013. While there were 17 motorcyclists killed in the first six months and 30 killed in the first nine months of 2012, there were just 13 killed in the first half of 2013. This was a 24 percent decline in the death rate. By the end of the first nine months, only 20 motorcyclists had been killed in 2013, which was a 33 percent decline as compared with 2012.
This is good news, but it should not be seen as an indicator that the roads are actually safer for riders. As Forbes points out, the reason there were fewer accidents in early 2013 is likely because there were fewer motorcyclists on the road. While 2012 had relatively warm and dry weather, 2013 was both much colder and much wetter, which prevented people from taking their bikes out as often.
There are better ways to reduce accident risks than simply hoping motorcyclists get bad weather and stay home. The NHTSA advises drivers to:
Look carefully for motorcyclists before changing lanes or merging.
Remember that motorcycle riders are much harder to see than cars because their vehicle is much smaller.
Avoid driving while distracted, keep focused on the road and be aware of the potential that a motorcycle rider is in your blind spot.
Give a motorcycle rider the full width of his lane to travel.
Motorcycle riders can also do their part by wearing bright clothing, communicating with hand signals and turn signals, staying sober and obeying speed limits. If both drivers and riders focus on safety, hopefully fewer motorcyclists will be killed in West Virginia in the future.
Contact a West Virginia accident attorney at the Recht Law Offices.  Call 1-800-487-8546 today for a free consultation.