West Virginia Traffic Accidents: Who's Texting Who?
Distracted driving has become a major concern, and many of the educational efforts aimed at reducing the thousands of annual distracted-driving deaths focus on teaching teens not to engage in this high risk behavior. The reality, however, is that anti-distracted driving programs may be better aimed at young adults, since a new study shows that teens are actually not the age group most likely to text as they drive.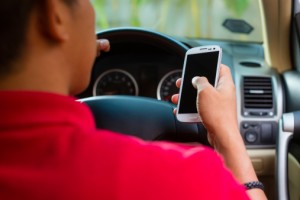 An experienced texting and driving accident lawyer in West Virginia knows that texting and driving is dangerous no matter who is doing it. Whatever your age or your driving experience, it is important to put the phone down while you are in the car and not to send or read texts while you should be focusing on the road.
Adults Text And Drive More than Teens
The new data suggesting that young adults are worse than teens when it comes to texting laws was collected by the AAA Foundation for Traffic Safety and has been published in a new study. According to the AAA data:
A total of 58 percent of drivers aged 16-18 reported using the phone while driving. Twenty-percent of teens in this age group said they use the phone fairly often. Thirty-one percent have sent a text or email while driving, and seven percent regularly send texts or emails as they drive.
Among drivers 19-24, 72 percent used the phone while driving and 27 percent did so fairly often. When it comes to texting, 42 percent said they've done it, and 11 percent said they do it often.
A total of 82 percent of drivers aged 25-39 used the phone while driving, with 42 percent saying they did so fairly often. Almost half – 45 percent – of drivers in this demographic said that they have texted while 10 percent report texting often.
Seventy-two percent of drivers aged 40-59 use the phone as they drive, but just 30 percent do so fairly often. Just 24 percent of drivers in this age group said they text and drive, and only two percent do so regularly.
Among drivers aged 60-74, 51 percent said they use the phone while driving and 15 percent said they do so regularly. In this age group, seven percent had sent a text behind the wheel and one percent did so routinely.
A total of 31 percent of drivers aged 75 and older use the phone while driving, but only seven percent do so regularly. Among people in this age range, only one percent report either sending a text ever or sending a text regularly.
This data suggests that people may start to text more as they get a little experience behind the wheel but before they are old enough to fully understand the consequences of this serious high-risk driving behavior.
Car accident lawyers in West Virginia can help if you were hurt in a crash. Call Recht Law Office today at 1-800-HURTLINE for a  free case consultation.