Black Ice Accident is Important Reminder to be Careful With Winter Driving
Winter weather has arrived and at least one traffic collision has already occurred this year because of dangerous black ice on the roads. According to WVVA, hazardous travel warnings were in effect on the day the accident occurred and motorists were alerted to falling temperatures, snow and freezing roads.  One driver traveling on the westbound lane of I-64 was involved in a crash because of the snow and ice on the roads, but reportedly did not sustain serious crash injuries.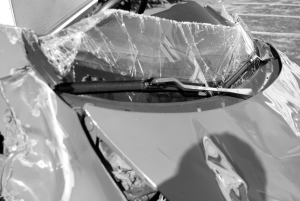 Any car accident lawyer in West Virginia knows that winter is a dangerous time for drivers because conditions on the road can significantly increase the chances of serious or even fatal accidents.  Drivers need to remember the best practices for winter driving safety to avoid getting hurt as the weather turns worse.
Winter Driving Safety Tips
Drivers who want to reduce their risk of winter accidents should follow these key tips:
Always check weather and traffic advisory warnings before leaving home. You will be alerted to coming storms, icy conditions or areas where accidents have happened. When you hear a bad weather warning, you can make the choice to put off non-essential trips, or you can be alerted to the fact that you need to be extra careful behind the wheel.
Never pass snow plow trucks or trucks that are sanding or salting the roads. Not only could you get into a serious accident if the driver of the truck doesn't see you, but you will also end up on unpaved roads that are less safe to travel on.
Slow down to account for slippery conditions. You should leave extra space between you and the vehicle that is in front of your car during the winter months to ensure that you don't become involved in a crash if the car in front of you spins out or if your brakes take longer to stop your vehicle as you skid on ice. Remember, you can be ticketed for speeding even if you are going the limit if you are traveling too fast to be safe under the current weather and road conditions.
Use your brakes gently, as slamming on the brakes increases the chance of a skid. If you find yourself skidding, ease up on the brakes.
Lower your gear in situations where you are going down a hill or where there is a risk of losing traction.
Know where black ice is most likely to form. Bridges and overpasses tend to be icier than other areas on the roads.
Teach your kids about safe winter driving. If this winter is the first time your child will be driving, be sure to do plenty of practice in snow or icy conditions before sending your child off to drive on his own.
Drivers who follow these tips and who are cautious during the winter driving season will have a better chance of being able to make it through to spring without becoming involved in a serious or even deadly traffic accident.
Car accident lawyers in West Virginia can help if you were hurt in a crash. Call Recht Law Office today at 1-800-HURTLINE for a  free case consultation.